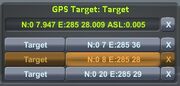 The
GPS Coordinator
is where GPS targets are listed. It can be accessed via the modules tab in the
Weapon Manager
.
Currently, the GPS target database can only receive coordinates from targeting pods like the FLIR Targeting Ball or AN/AAQ-28 Targeting Pod.
Once a target coordinate is sent to the GPS database, it is shared between members of the same team, and the target's position in the world will be marked with a small green dot.
The GPS Coordinator window contains the following two sections:
Active Target
Edit
The area at the top shows the name and coordinates of the currently selected GPS target, if any. The position of the target is also marked with a green dot with crosshairs on its world position.
GPS guided weapons can home in on the active target. The X on the right deletes the current target.
Target List
Edit
Below the currently selected target is the GPS target database. Targets in the database can be renamed by clicking their current name, using the button on the left.
To mark a target as active, click on the coordinates in the middle. The X to the right of each entry removes it from the GPS target database.